Keith B. Richburg is a member of the Editorial Board of The Washington Post and a Post Global Opinions columnist, where he writes primarily about foreign policy issues. From 2016 until mid-2023, he was Director of the Journalism and Media Studies Centre at the University of Hong Kong and a Professor of Practice, teaching courses on Covering Global Affairs, Feature Writing and on the role of the Journalist in Comics, Film, Fiction and Fact,
Richburg spent more than three decades with The Washington Post, as a reporter, foreign correspondent and foreign editor. He covered the invasion in Iraq in 2003, the fall of the Taliban in Afghanistan in 2001, the U.S. military intervention in Somalia, the genocide in Rwanda, the 1997 Hong Kong handover to China, the Asian economic crisis, and the Chinese Communist Party Congress in 2012 that brought Xi Jinping to power. He covered terrorism bombings in Casablanca and Madrid, the expansion of NATO and the European Union in the early 2000s and elections in Europe, Africa, Asia and the United States.
He has won several awards, including the George Polk Award, the Overseas Press Club Award, the National Association of Black Journalists Award and was a finalist for the Pulitzer Prize for his reporting from Africa. Richburg speaks English and French, a smattering of Spanish and basic Mandarin Chinese.
A native of Detroit and a lifelong (often frustrated) Detroit Tigers baseball fan, Richburg began working for the Post as a summer intern in 1978. He received a B.A. from the University of Michigan and a Master's Degree in international relations from The London School of Economics in 1984. He began his career in journalism as the political cartoonist for The Michigan Daily, the student-run newspaper of the University of Michigan, and he still dabbles in cartooning.
Richburg was the Ferris Professor of Journalism at Princeton University in the Spring of 2014, where he taught an undergraduate course, "Foreign Policy, Public Opinion and the Press," and he was a 2013 Spring Fellow at Harvard University's Kennedy Institute of Politics, where he led a weekly study group called "China Rising." He is a regular moderator and speaker at media conferences and a sought-after analyst on press freedom issues, media affairs and international politics from Africa to Asia.
Richburg is the author of the acclaimed book, Out of America: A Black Man Confronts Africa (Basic Books, 1997) that was described by USA TODAY as "the most honest book to emerge from Africa in a long time."
He is returning to Princeton as a Ferris Visiting Professor in September, 2023. He is also working on a novel.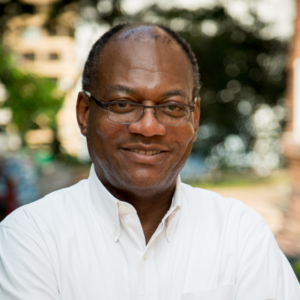 Washington Post Assignments:
Bureau chief, Bejing, 2009-2013
Bureau chief, New York, 2007-2009
Bureau chief, Paris, 2000-2007
Bureau chief, Hong Kong, 1995-2000
Bureau chief, Nairobi, 1991-1995
Journalist-in-residence, East-West Center, Hawaii, 1990-1991
Bureau chief, Manila, 1986-1990
Education:
1980 B.A., Political Science & History, University of Michigan
1984 M.A., International Relations, The London School of Economics
Honours:
2013 Harvard University Institute of Politics Resident Fellow
1998 George Polk Award for Economic Reporting, Asian Economic Crisis
1995 National Association of Black Journalists (NABJ) Journalism Award for essay "Continental Drift"
1994 Overseas Press Club Award, Citations for Excellence, for Dispatches from Africa
1993 National Association of Black Journalists First Place for International Reporting for coverage of Somalia
1993 George Polk Award for Foreign Reporting for coverage of Somalia
1992 Overseas Press Club Award, Citations for Excellence, coverage of Somalia
1992 Pulitzer Prize finalist for Somalia coverage